Petrochemicals: Jul 12-16: Butadiene rises further on strength in China domestic prices
Aromatics
The FOB Korea benzene market strengthened, supported by a rise in benchmark feedstock crude prices and strength in US benzene prices. But profitability of derivatives was decreasing and the upper end of the market was capped. The CFR Northeast Asia paraxylene (PX) market softened. Buying interest receded due to concerns against high prices.
Olefins
The CFR Northeast Asia market increased slightly as benchmark feedstock crude and naphtha prices were firm and US ethylene prices rose sharply. But an ethylene facility in Japan restarted after maintenance while a new facility in Korea was operating smoothly and supply was perceived to be ample. As a result, the rise in the market was limited.
The Asia propylene market softened due to weak buying interest from Chinese end-users. In Northeast Asia, Chinese end-users were procuring domestic cargoes and showed scant buying interest for imported cargoes. Nevertheless, as imported cargoes were not in ample supply, the magnitude of the fall was limited. In Korea, one maker conducted a sell tender for August loading. In Southeast Asia, Thailand's PTTGC sold a cargo loading August based on market quotations via a tender.
The Asia butadiene market continued to rise. In Northeast Asia, cargoes from Asia were exported to the US and supply tightened. Under this situation, China domestic prices surged and end-users had no choice but to bid up to sellers in order to purchase necessary cargoes. In Southeast Asia, Thailand's PTTGC carried out a sell tender for mid-August loading.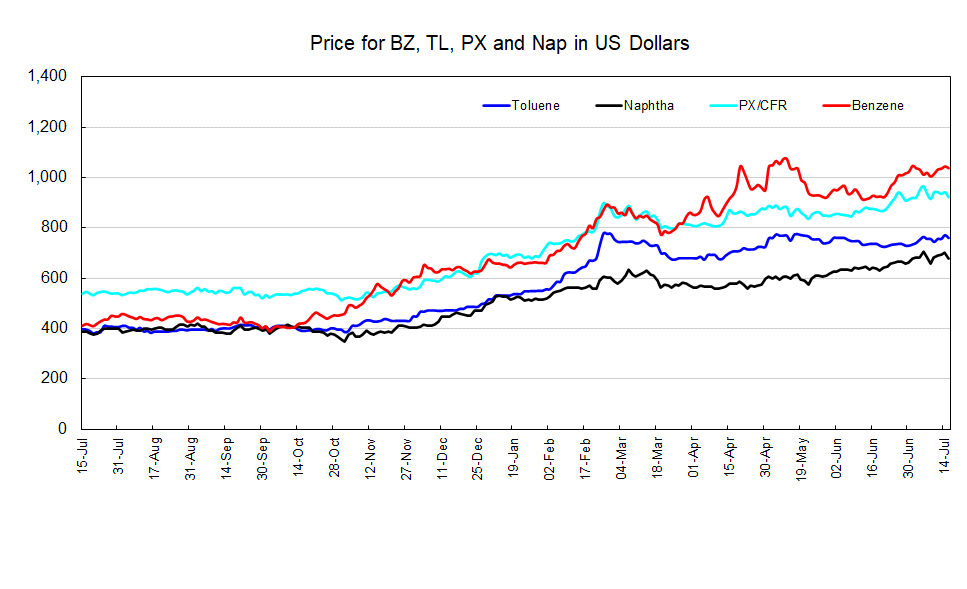 Tokyo : Petrochemicals Team Shinnosuke Tagusari
+81-3-3552-2411
Copyright © RIM Intelligence Co. ALL RIGHTS RESERVED.