Petrochemicals: Jun 13-17: Aromatics market falls on receding demand
Aromatics
Aromatic product prices in the Northeast Asia market fell back from the previous week since crude prices dropped in the middle of the week. As for benzene, demand was receding since profitability of derivatives was worsening and operating rates of derivative facilities were falling. Regarding toluene and xylene, the arbitrage to the US was open but there were concerns that volumes that could be exported to the US as feedstocks of gasoline might be limited.
Olefins
The CFR Northeast Asia ethylene market decreased due to weak demand. Demand for derivatives was low and some petrochemical makers were extending maintenance of derivative facilities. Petrochemical makers were still conducting production cuts at ethylene facilities and refrained from spot sales but perceptions of surplus supply for ethylene were unlikely to ease. On a CFR China basis, deals for July delivery and for delivery from the end of June to first-half July were heard at $990/mt.
The Asia propylene market was on a downtrend. In Northeast Asia, some sellers were keen on sales. On the other hand, spot buying interest from end-users was thin. Under this situation, supply/demand was seen to be slack. In Korea, the impact of a strike was mixed. As petrochemical makers reduced production, some makers faced a shortage of propylene. On the other hand, some makers were under selling pressure as propylene stocks were building up. The Southeast Asia market was quiet.
The Asia butadiene market softened. In Northeast Asia, many end-users had finished buying until July and demand receded. On the other hand, facilities that were under maintenance were gradually resuming operations and supply was increasing. In Southeast Asia, Thailand's BST conducted a sell tender for July loading.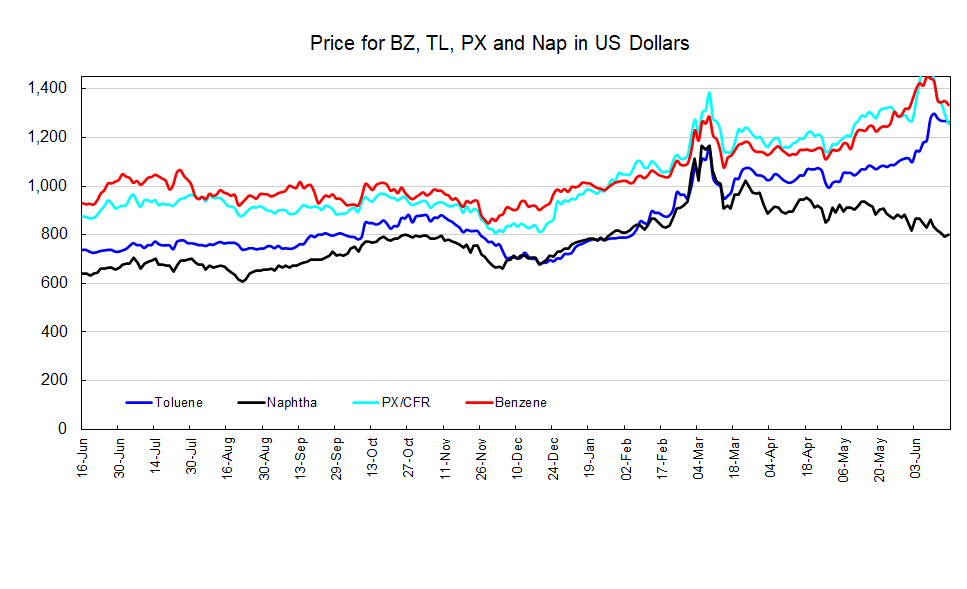 Tokyo : Petrochemicals Team Shinnosuke Tagusari
+81-3-3552-2411
Copyright © RIM Intelligence Co. ALL RIGHTS RESERVED.