Petrochemicals: Mar 16-20: Aromatics plunge on fall in crude
Aromatics
The Northeast Asia aromatics market fell sharply from the previous week owing to losses in crude prices. As the manufacturing industry was affected by the COVID-19 outbreak in regions including Europe and the US, demand for petrochemical products was perceived to recede. This also pushed down the market.
Olefins
The CFR Northeast Asia ethylene market decreased from the previous week. As COVID-19 was spreading throughout the world, buying interest was unlikely to increase. On the other hand, in China, the COVID-19 outbreak was ceasing in some regions and views were heard that buying interest for delivery to Northeast Asia was recovering. Under this situation, a cargo for delivery to Northeast Asia was traded at $630/mt.
The Asia propylene market fell. Amid softening crude prices and sluggish demand for derivatives, sentiments weakened. In Korea, Hyosung's propane dehydrogenation plant entered maintenance on Mar 16. In Southeast Asia, Pengerang Refining and Petrochemical's refinery was shut down due to an explosion.
The Asia butadiene market was quiet. Some butadiene facilities in Korea and Malaysia were shut down and supply was perceived to be tight. But since demand remained poor, few bids and offers were heard and a wait-and-see mood was strong. Falling crude prices also dampened market sentiment.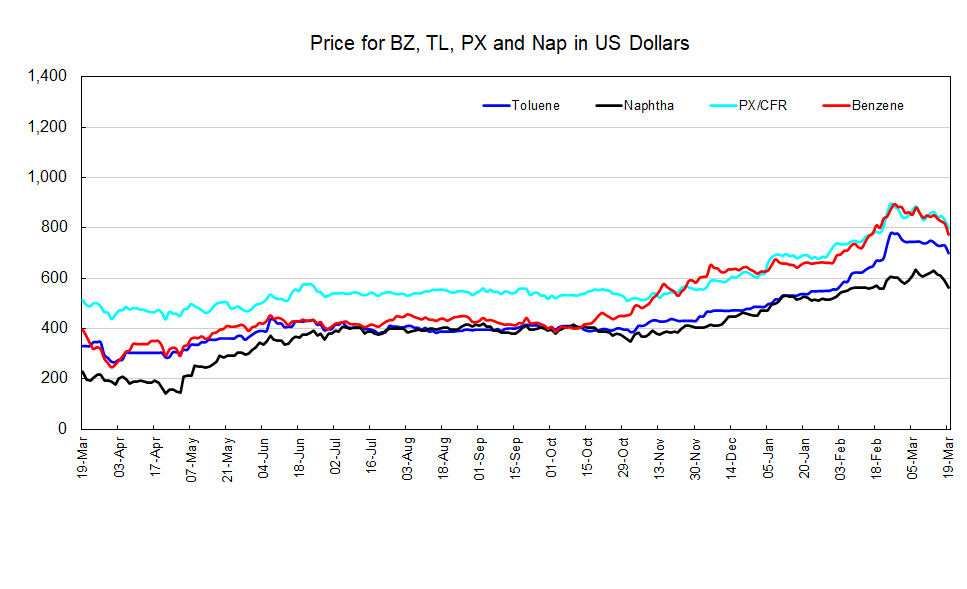 Tokyo : Petrochemicals Team Shinnosuke Tagusari
+81-3-3552-2411
Copyright © RIM Intelligence Co. ALL RIGHTS RESERVED.