Lecture services
Rim Intelligence provides lecture services on energy markets.Our reporters, who are well-versed in trading information and market movements, conduct lectures on various energy markets.
These lectures are especially suitable as an internal course within the company for existing staff or new employees. They are also useful to be included in seminars and conferences. We can tailor the lectures according to your needs.
Lecture services format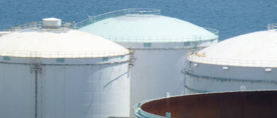 Lectures on energy markets are suitable for a wide spectrum of participants ranging from new employees to experienced staff. The topics covered can be basic or advanced and can be customized to your needs.

We provide lecture services on the entire energy spectrum including fossil fuels, power, renewable energy and petrochemicals.
Specifically, we can cover crude, petroleum products, LNG, LPG, power, petrochemicals and renewable energy.
Actual services provided
Lectures for new employees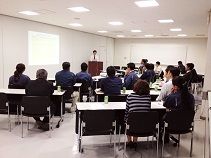 Basics of crude and petroleum products (for refiners, trading companies, dealers)
Basics of gas (LNG and LPG) (for refiners and gas companies)
Basics of petrochemicals (for refiners, trading companies, petrochemical makers)
Seminars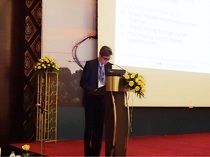 Market movements of crude and petroleum products (for various companies)
Market movements of petroleum products in China and other parts of Asia (for various companies)
LPG market movements (for gas companies)
Power price movements from a fuels perspective (for trade exchange)
Understanding the power spot market from movements in energy markets (for financial institutions)
Surging LNG prices triggered by shortage of natural gas in Europe (for financial institutions)
Changes taking place amid decarbonization (Rim seminar)
Japanese refining situation and domestic market movements (for financial institutions)
Overview of Crude, LPG and LNG markets (for oil and gas companies)
Comments from participants

New employee from trading company
Not only did I listen to lectures by the speakers, there were also quizzes and group work which facilitated communication among participants.
From Rim's lecture, I could get an overall picture of the market. This helped to broaden my horizon.

Sales personnel from gas company

Sales personnel from transportation company
From Rim's lecture, I could obtain additional information that I could not find in Rim reports.
The lecture was presented from Rim's perspective and I could look at the situation from another angle.

Sales personnel from oil dealer

New employee from refining company
Rim has stimulated my interest in the energy market.
How to use lecture services

Please contact us by phone: +81-3-3552-2411 or via the inquiry form.


We will ask you about the purpose of the lecture, topic and participants, and issue a quotation.


Next, we will work out the contents of the lecture, prepare the presentation materials and share them with you.


We will then perform a final check of the lecture materials and schedule.


Finally, the actual lecture will be conducted.
Fees
We will customize the fees according to the contents, number of participants, number of speakers, venue, duration etc.
Terms of Use
Start of Service

After conditions such as the topic and date and time are finalized, an application form received from the user such as by email constitutes a formal agreement.

Cancellation

After the agreement started, Rim may terminate this service should circumstances arise making it difficult for Rim to conduct this service.

Venue

Normally to be arranged by the user. Rim, however, can also arrange the venue.

Payment

For lecture services fees and other charges in Japan, our invoice will include consumption tax.
Payment is to be made within 30 days from the date of the invoice by telegraphic transfer to a bank account specified by Rim. Fess for the telegraphic transfer shall be borne by the user.

Other charges

Expenses incurred by the speaker for transportation, accommodation, meals, if these became necessary, will be added to the lecture services fee.
Depending on the contents, the speaker may bring along an assistant. In such a case, the assistant's transportation, accommodation and meal costs, where necessary, will be borne by the user.
Printing of lecture materials will be charged at cost.

Cancellation Charges

After the agreement started, if the user wishes to cancel the service, the following cancellation charges apply.
*Cancellation charges (including the day of travel by speaker)


| | |
| --- | --- |
| Up to 14 days before start of travel by speaker | 100% of lecture services fee |
| 15-30 days before | 50% of lecture services fee |
| 31 days before | 30% of lecture services fee |

Cancellation charges are to be paid within 7 days (excluding Saturdays, Sundays and public holidays in Japan) of the cancellation of the service. Consumption tax will be added to the cancellation charges for services provided in Japan.

Copyrights and Other Intellectual Property Rights

Voice recordings, video recordings and streaming of lectures are prohibited. Photography is also not permitted. The user of the service is to announce on the day of the lecture that taking photographs using mobile phones and other devises is not allowed.
All copyrights and other intellectual property rights pertaining to the lecture shall be owned by Rim and not passed to the user. Whether for commercial purposes or not, permission from Rim is required if the user wishes to use the contents of the lecture in other ways.
Unauthorized use of all or part of the lecture materials for similar seminars is strictly prohibited. No portion of the lecture materials shall be copied, reproduced or retransmitted without permission from Rim. Materials obtained during the lecture service shall not be copied or reproduced into similar materials.

Personal Information

Personal information obtained by Rim during the course of the user's application for this service shall be used only for this service and not be disclosed to a third party.

Force Majeure

In the case where the speaker is unable to attend due to unforeseen disaster, accident, troubles, Rim shall try to make alternative arrangements such as sending a replacement speaker. However, Rim shall not be responsible for any damages to the user because of this.

Damages

In the case where Rim is responsible to pay damages concerning this agreement, such damages shall be limited to the lecture fees.

Changes to Terms of Use

Rim may make amendments including additions or deletions to these terms of use without prior notice to the user. The amendments shall be effective when the user is informed by email or other means of communication.

Rejection of Antisocial Forces

Rim and the user may immediately terminate the agreement, in the case where the other party, or executive, officer, agent or any other employee of the other party is found to be an antisocial organization such as a gangster organization, crime syndicate, advocacy of social movements or a criminal organization for special intelligence, to be a member of such an antisocial organization, to have capital ties or transaction with such an antisocial organization, or to have committed antisocial acts.

Others

Any matters not included in the above shall be discussed and agreed between Rim and the user.