Petrochemicals: May 11-15: Ethylene increases on tight supply in Asia
Aromatics
The Asia aromatics market moved in a narrow range. The market was supported by the firm crude market. But as COVID-19 was spreading worldwide and recovery of end products demand was delayed, the market was curbed.
Olefins
The CFR Northeast Asia ethylene market increased sharply due to tight supply caused by maintenance of naphtha crackers in China. In trade this week, a European cargo to be delivered to China in the second half of June was traded at $570/mt. Apart from this, some buyers were showing buying interest as economic activity was restarting in China. Buying ideas were observed at $550/mt.
The Asia propylene market strengthened. In Northeast Asia, supply of imported cargoes was tight and China domestic prices were firm. These factors gave a boost to the market. On an FOB Korea basis, few spot cargoes were available and activity was thin. In Southeast Asia, a Thai maker sold spot cargoes loading May and early June via tenders. As for non-regional supply, a US cargo was traded into Taiwan.
In the Asia butadiene market, CFR Northeast Asia and CFR Southeast Asia prices rose slightly while FOB Korea prices were unchanged. In Northeast Asia, end-users held a bearish view and were not keen to buy. Sellers, however, considered procurement costs and were unwilling to lower their offers below $350/mt. As a result, the high end of the market moved up. On an FOB Korea basis, few bids and offers were heard and a wait-and-see mood was strong. In Southeast Asia, a Thai maker sold mid-June loading via a tender.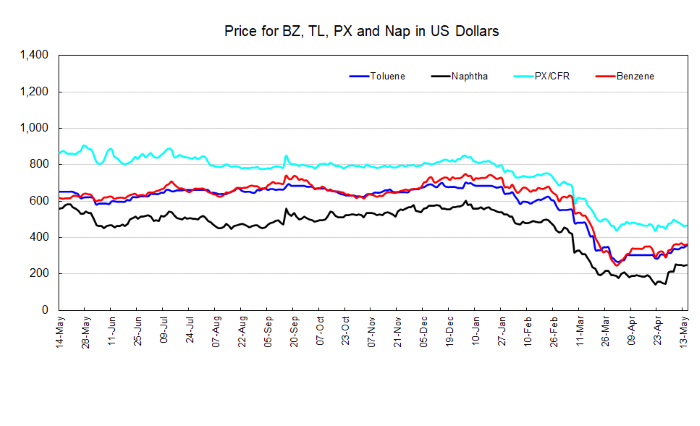 Tokyo : Petrochemicals Team Shinnosuke Tagusari
+81-3-3552-2411
Copyright © RIM Intelligence Co. ALL RIGHTS RESERVED.