Petrochemicals: Jun 22-26: Aromatics profitability low, supply ample on additional capacity
Aromatics
The Asia aromatics market followed changes in the crude market. But aromatics prices only responded slightly to the increase in feedstock crude and naphtha prices and the price spread with these feedstocks was shrinking. In China, new refineries and naphtha crackers were scheduled to start operations and players perceived that supply might be ample going forward.
Olefins
The Asia ethylene market was stable. This week, a deal for delivery to Japan in second-half July was reportedly done at slightly above $900/mt. But the cargo seemed to have been traded at a level above the market as operating rates at a naphtha cracker in Japan were low and ethylene supply was tight. Going forward, perceptions of tight supply were expected to recede along with restart of ethylene facilities in China and inflow of non-regional cargoes.
In the Asia propylene market, a wait-and-see mood was strong. In Northeast Asia, China domestic prices were on a downtrend and buying interest from end-users receded. On the other hand, sellers faced no selling pressure at present and showed no hurry to engage in trade. Overall, activity was thin. On an FOB Korea and a CFR Southeast Asia basis as well, fresh talks were not heard. In the Middle East, Petro Rabigh conducted a sell tender for July loading.
The Asia butadiene market held steady. In Northeast Asia, ideas between buyers and sellers were far apart and no deals were reported. Talks remained stalled. With demand recovering, sellers held a bullish view and were unwilling to lower their offers. On the other hand, buyers felt that supply was still ample and were inactive in purchasing. In Southeast Asia, spot demand was seen but firm discussions were not heard.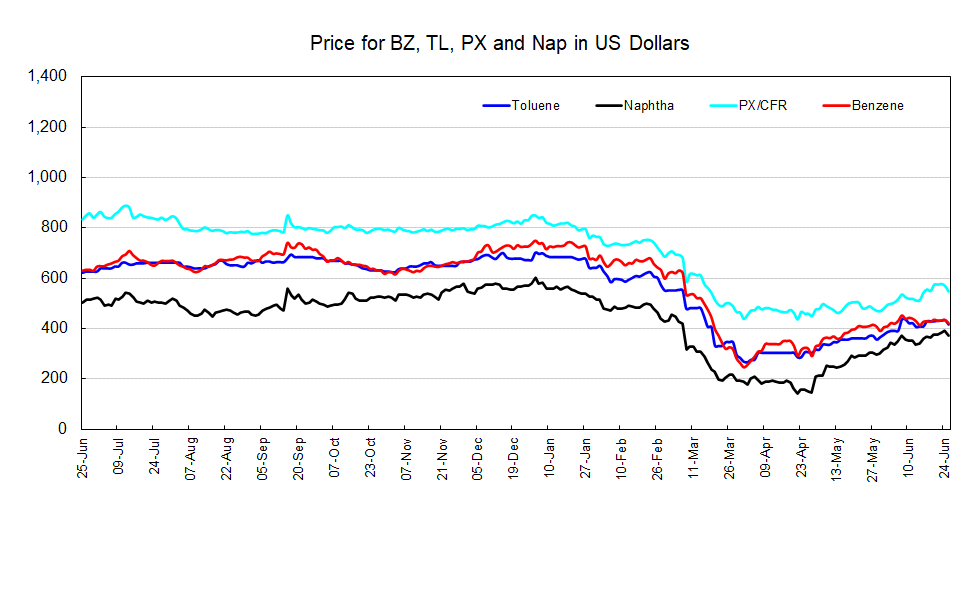 Tokyo : Petrochemicals Team Shinnosuke Tagusari
+81-3-3552-2411
Copyright © RIM Intelligence Co. ALL RIGHTS RESERVED.