Petrochemicals: Nov 9-13: Market increases on strong crude prices and facility troubles
Aromatics
The FOB Korea benzene market increased sharply. As derivative styrene monomer (SM) prices were strengthening, SM makers' interest in production was rising. Views were heard that a Korean maker might shut down its SM facility due to the shutdown of its naphtha cracker. The paraxylene (PX) market rose, bolstered by an increase in crude and naphtha prices.
Olefins
The CFR Northeast Asia and the FOB Korea ethylene market increased. Korea's LG Chem continued buying December delivery cargoes since its naphtha cracker was shut down due to a fire that occurred in the previous week. Under this situation, demand/supply for Korea delivery tightened. In talks this week, a cargo loading in China on Dec 5-10 was reportedly traded for delivery to Korea at $840/mt on a CFR basis.
The Asia propylene market strengthened. In Northeast Asia, supply was thin due to facility maintenance and troubles while LG Chem in Korea was buying to cover its shortage. As a result, supply/demand tightened. In Southeast Asia, restart of Exxon-Mobil's naphtha cracker from turnaround was delayed and a Thai maker had an olefin facility under maintenance. Supply was therefore perceived to be tight.
The Asia butadiene market rose. In Korea, Lotte Chemical and LG Chem's naphtha crackers were shut down and demand for delivery to Korea was strong. Makers with room to sell focused on supplying to Korea. In Southeast Asia, one maker conducted a sell tender for December loading.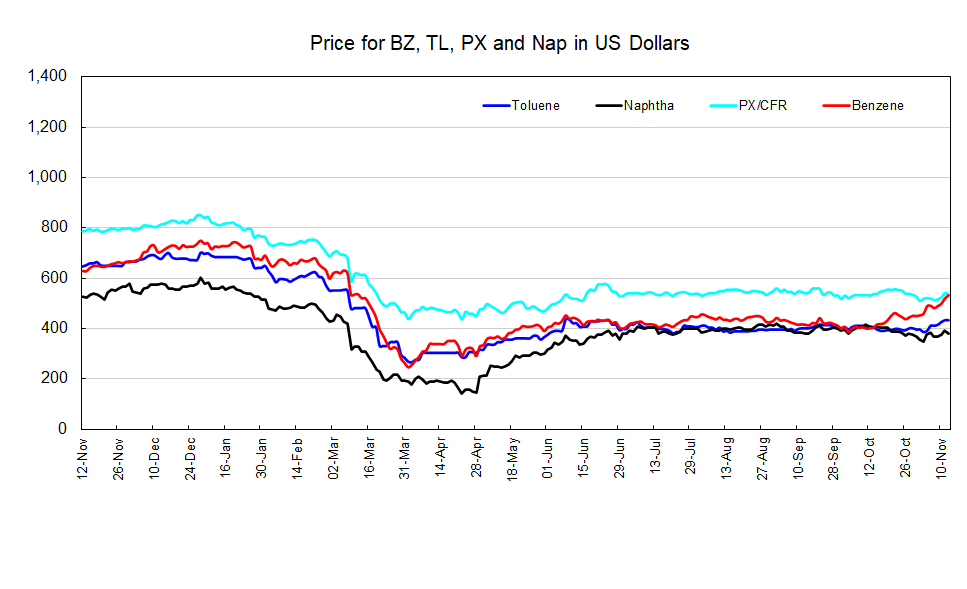 Tokyo : Petrochemicals Team Shinnosuke Tagusari
+81-3-3552-2411
Copyright © RIM Intelligence Co. ALL RIGHTS RESERVED.