Petrochemicals: Feb 15-19: Benzene increases on strong crude prices and facility shutdowns in US
Aromatics
The FOB Korea benzene market increased sharply because of a rise in crude prices and supply concerns along with a cold wave and power failure in the US. China domestic prices rose sharply after Lunar New Year holidays and this also supported the market. Paraxylene (PX) prices moved up along with firm crude prices. After the holidays, PTA futures on the Zhengzhou Commodity Exchange strengthened and this also pushed up prices.
Olefins
In the Northeast Asia ethylene market, movements were thin as China, a consuming country, was on Lunar New Year holidays until Feb 17. But a deal for first-half March delivery was reportedly done at $800/mt. Along with a recent fall in ethylene prices, profitability of ethylene derivatives improved and buying inquiries from end-users were increasing. As a result, ethylene prices were perceived to be bottoming out.
The Asia propylene market was quiet in the first half of the week due to the Lunar New Year holidays. Later in the week, China returned from holiday and the domestic market strengthened. Further, supply of imported cargoes was tight and many players held a bullish view. In addition, several petrochemical facilities in the US were halted due to a cold wave and propylene supply was in shortage. Under this situation, sources expected that exports of Asian cargoes to the US would continue.
In the Asia butadiene market, although supply was not tight, feedstock costs were high and derivative prices were firm. Therefore, the market had room to move up. Sellers showed no hurry to sell and stayed on the sidelines. In China, the market was on an uptrend after the Lunar New Year holidays due to high crude prices and gains in product futures prices including natural rubber.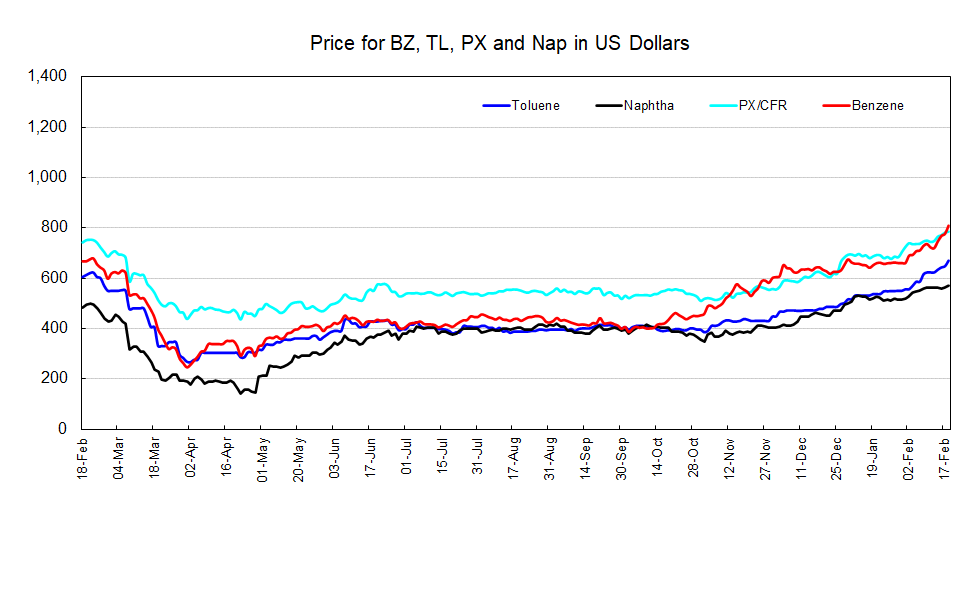 Tokyo : Petrochemicals Team Shinnosuke Tagusari
+81-3-3552-2411
Copyright © RIM Intelligence Co. ALL RIGHTS RESERVED.