Petrochemicals: Jul 19-21: Aromatic prices fall on weak crude market
Aromatics
Aromatic prices softened in the middle of the week owing to a fall in benchmark feedstock crude prices. For benzene, many facilities in China were undergoing maintenance while operating rates of derivative facilities also decreased owing to worsening profitability. For paraxylene (PX), players moved to sell for profit taking by last week as the market was perceived to be overheated. Since derivative PTA futures were falling, players were cautious in buying PX.
Olefins
In the Northeast Asia ethylene market, activity was muted. In the first half of the week, selling ideas were heard but no end-users responded. After that, crude prices tumbled and market directions became unclear. In the Southeast Asia market, many countries were on holiday on Jul 20 and trade was thin.
The Asia propylene market fell along with slack supply/demand. In Northeast Asia, supply from Southeast Asia was ample while buying interest from Chinese end-users receded and supply/demand weakened. On an FOB Korea and CFR Southeast Asia basis, few bids and offers were heard and activity was thin.
The Asia butadiene market was firm. In Northeast Asia, large quantities had been exported to the US and supply within Asia was tight. As a result, prices remained at high levels. On an FOB Korea and a CFR Southeast Asia, a wait-and-see mood was strong.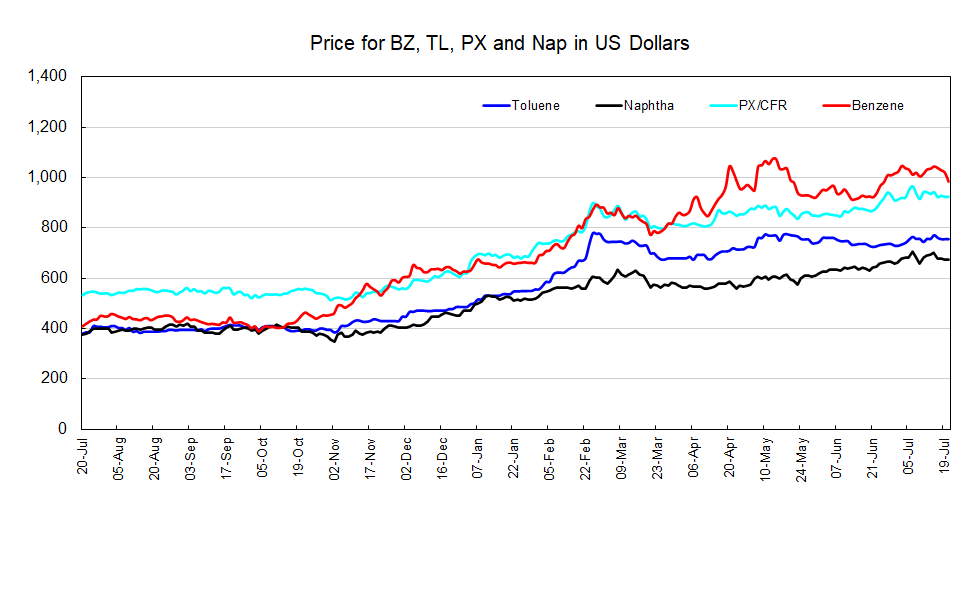 Tokyo : Petrochemicals Team Shinnosuke Tagusari
+81-3-3552-2411
Copyright © RIM Intelligence Co. ALL RIGHTS RESERVED.