Petrochemicals: Nov 25-29: Players focus on explosion at butadiene facility in US
Aromatics
FOB Korea benzene prices increased slightly from the previous week, supported by firmness in the benchmark feedstock crude and naphtha market. On the other hand, supply for benzene was increasing along with construction of new refineries in Asia and this was perceived to cap the market. CFR Northeast Asia paraxylene (PX) prices were staying at almost the same level as the previous week. Factors that pushed up the cost were seen including high naphtha prices but the market was curbed by supply from new facilities.
Olefins
Ethylene markets in Asia showed mixed movements. CFR Northeast Asia prices were unchanged from the previous week. Players focused on term discussions for 2020 and refrained from talks on a spot basis. CFR Southeast Asia prices decreased. Perceptions of tight supply receded as derivative makers were reducing production due to low profitability and Shell was expected to restart its naphtha cracker in Singapore from December. FOB Korea prices increased. Buying interest was strong in a sell tender for Taiwanese cargoes and this sent the FOB Korea market higher.
In the Asia propylene market, CFR Northeast Asia prices were stable while CFR Southeast Asia and FOB Korea prices softened. In Northeast Asia, buying interest from end-users was thin while sellers showed no hurry to conduct sales. As a result, talks were subdued. On an FOB Korea basis, makers had room for spot sale but did not want to lower their offers. But the market fell along with weakness in the CFR Northeast Asia market, a destination for cargoes from Korea. In Southeast Asia, supply/demand was slack with spot demand not seen. If cargoes were available, they would have to be resold to Northeast Asia.
The Asia butadiene market rebounded. Until the middle of the week, non-regional availability was ample and Japanese cargoes were in surplus. As a result, the market fell. But later in the week, an explosion occurred at TPC's butadiene facility in the US, generating views that supply of non-regional cargoes might decrease going forward and pushing up the market.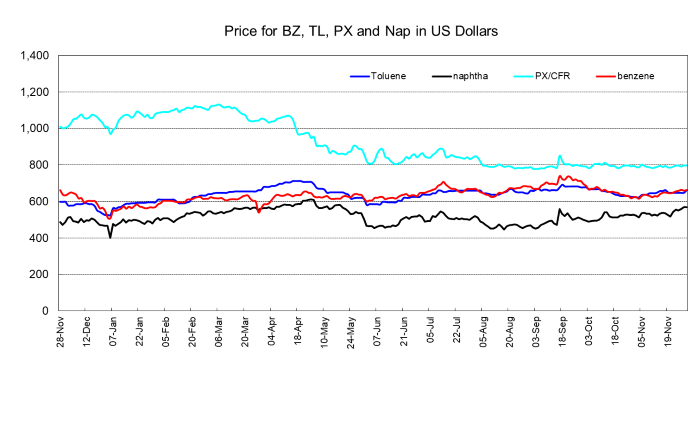 Tokyo : Petrochemicals Team Shinnosuke Tagusari
+81-3-3552-2411
Copyright © RIM Intelligence Co. ALL RIGHTS RESERVED.