Petrochemicals: Dec 2-6: Ethylene falls on ample supply
Aromatics
The aromatics market in Northeast Asia was firm. Since Organization of the Petroleum Exporting Countries (OPEC) was showing moves to enhance its coordinated production cuts and the crude market was seen to move up, buying for aromatic products increased. On the other hand, as new facilities in China were expected to start up soon, supply especially for paraxylene (PX) was perceived to be ample. Because of this, the rise in the market was limited and the price spread with feedstocks, that had shrunk previously, only widened slightly.
Olefins
CFR Northeast Asia ethylene prices decreased. Since profitability of derivative was low, makers were reducing production. At the same time, some petrochemical makers were selling ethylene that was in surplus and selling pressure on ethylene was strong. At the beginning of the week, deals were reported at $760-780/mt. In Southeast Asia, spot demand in the region was weak and to sell Southeast Asian cargoes, they had to brought into Northeast Asia. Therefore, the fall in CFR Southeast Asia prices was deeper than CFR Northeast Asia. A deal was concluded at $700/mt in the middle of the week.
The Asia propylene market weakened. In Northeast Asia, amid softening China domestic prices, end-users held a bearish view and buying interest for imported cargoes was not strong. On an FOB Korea basis, players focused on term negotiations for next year and spot trade was thin. In Southeast Asia, spot demand was not seen and a wait-and-see mood was strong.
The Asia butadiene market moved up. Buying interest from Chinese end-users strengthened along with firmness in China domestic prices. On the other hand, owing to an explosion at TPC's butadiene facility in the US, fewer non-regional cargoes flowed in and supply was tight. As a result, the market increased.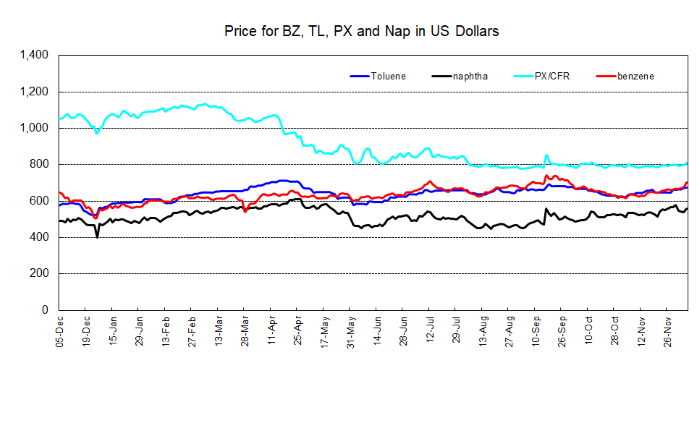 Tokyo : Petrochemicals Team Shinnosuke Tagusari
+81-3-3552-2411
Copyright © RIM Intelligence Co. ALL RIGHTS RESERVED.