Power: Apr 26-30: Prices rise on tighter solar, thermal power supply
In the day-ahead market on JEPX (Japan Electric Power Exchange), the 24-hour spot power prices for Apr 26-30 delivery strengthened from the previous week in both East Japan and West Japan. The weather was cloudy for most of the week. Tighter solar power supply than the previous week lifted day time prices. Spot prices also found support from lower spare generation capacity tied to a series of thermal unit shutdowns mainly for regular maintenance.
The actual highest price during the week was at Yen 28.20 in all of nine areas for Apr 28 delivery. The actual lowest price during the week was at Yen 0.01 in Kyushu and the system price for Apr 26 delivery, Hokkaido, Tohoku and the system price for Apr 27 delivery, and West Japan and the system price for Apr 30 delivery.
By area, the weekly average of the 24-hour spot prices was at Yen 8.42 in Hokkaido, up Yen 2.33 from the previous week, Yen 8.34 in Tohoku, up Yen 2.23, Yen 8.50 in Tokyo, up Yen 1.51, Yen 8.32 in Chubu, up Yen 1.39, Yen 8.33 in Hokuriku, up Yen 1.33, Yen 8.33 in Kansai, Chugoku and Shikoku, up Yen 1.24, and Yen 7.35 in Kyushu, up Yen 1.47.
Power demand in nine areas of Japan during Apr 26-30 was a combined 10,489.93 mil kWh, down 4.3% from 10,957.18 mil kWh during Apr 19-23. The figure was up 7.4% from the corresponding period a year earlier. Demand during Apr 27-May 1, 2020 after day of week adjustment was 9,766.18 mil kWh.
In the JEPX forward market, no deals were reported during Apr 26-30.
Deals reported on TOCOM (Tokyo Commodity Exchange) during Apr 26-30 were as below.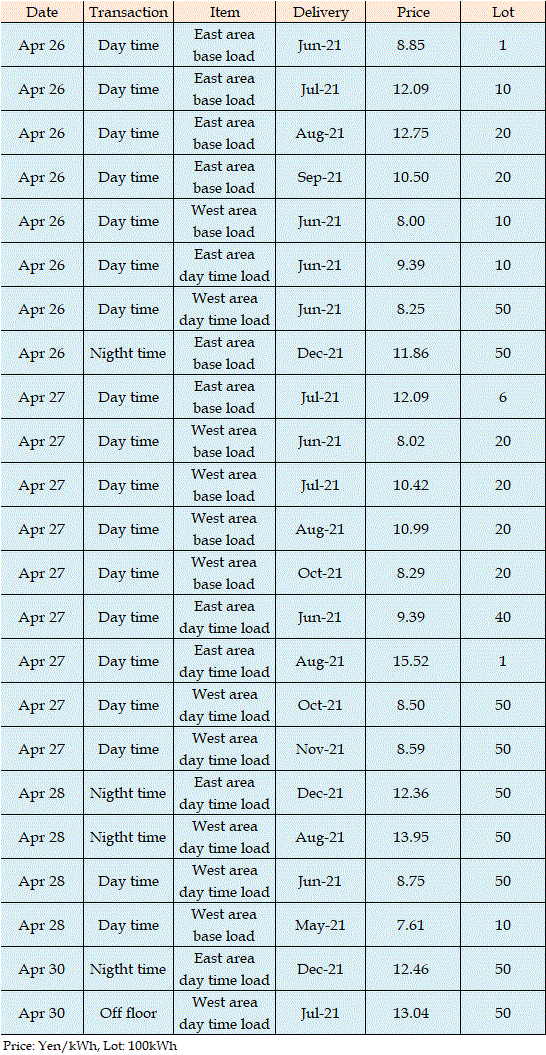 Deals reported on EEX (European Energy Exchange) during Apr 26-30 were as below.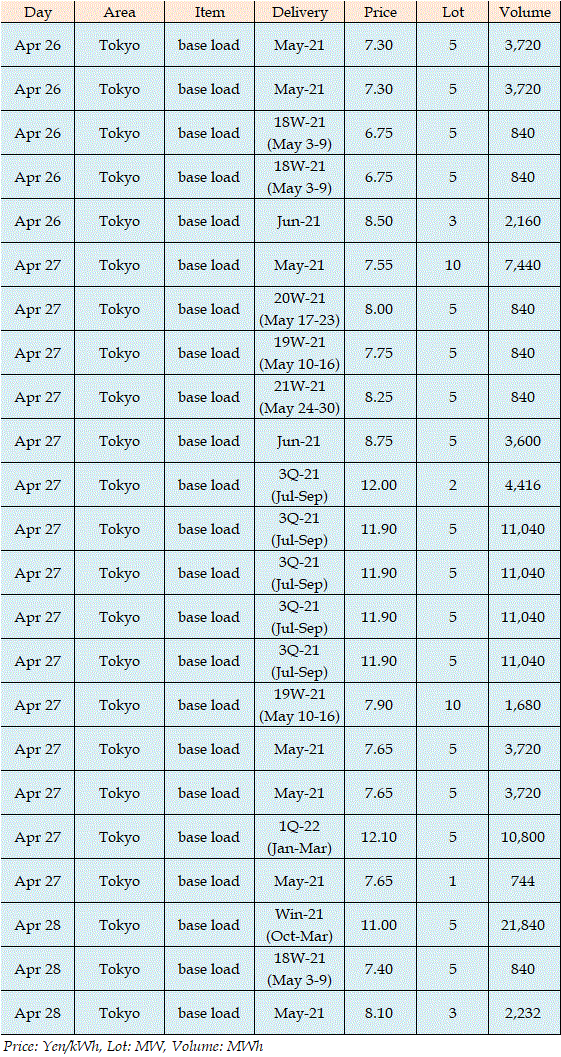 During the week starting May 3, spot prices are expected to remain depressed by slow demand as the Golden Week holidays kicked off on Apr 29. Especially, the Japanese government declared the state of emergency in four prefectures including Tokyo, Osaka, Hyogo and Kyoto between Apr 26 and May 11. Industrial demand for high and ultra-high voltage power is likely to wane and take a toll on spot prices. But with several thermal units off line as mentioned earlier, any fresh troubles at thermal units could lead to a spike in spot prices.
Tokyo : Electricity Team K.Karino
+81-3-3552-2411
Copyright © RIM Intelligence Co. ALL RIGHTS RESERVED.