Petrochemicals: Jun 21-25: Aromatics rise on strong crude prices
Aromatics
The Northeast Asia aromatics market was bullish along with a recent rise in crude prices. Regarding derivatives, styrene monomer (SM) and pure terephthalic acid (PTA) futures in China increased on some days, bolstered by strength in the crude market. This also pushed up feedstock benzene and paraxylene prices.
Olefins
The CFR Northeast Asia ethylene market increased. Owing to a previous fall in ethylene prices, profitability of derivatives improved and ethylene demand was rising. Further, some ethylene facilities in Korea experienced troubles temporarily. Supply concerns along with this also became bullish factors.
The Asia propylene market strengthened. As the startup of new facilities in Korea was delayed and several facilities were experiencing problems, supply was perceived to be tight. In addition, demand from Japan was firm and sellers adopted a bullish stance. Under this situation, end-users that had previously refrained from purchasing showed buying interest and the market rose slightly. In Southeast Asia, Thailand's PTTGC conducted a sell tender for July loading.
In the Asia butadiene market, sales to the US were vibrant. In Northeast Asia, Asian cargoes were actively sold to the US where prices were firm. As a result, supply within Asia was tight and the FOB market increased. This led to a rise in procurement costs and sellers raised their offers. On the other hand, end-users had to bid up to sellers to buy cargoes to maintain production.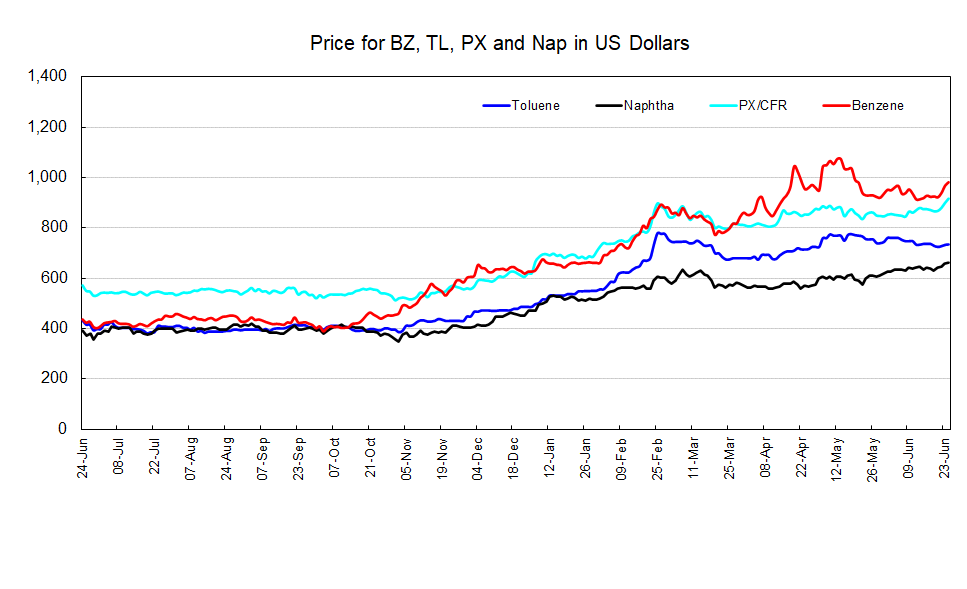 Tokyo : Petrochemicals Team Shinnosuke Tagusari
+81-3-3552-2411
Copyright © RIM Intelligence Co. ALL RIGHTS RESERVED.