Petrochemicals: Jun 28-Jul 2: Ethylene rises as startup of new facility delayed
Aromatics
FOB Korea benzene prices rose sharply due to a recent increase in crude prices and tight supply in China. Maintenance of refineries was taking place in the region while derivative facilities were operating smoothly. Further, many Korean cargoes had been exported to the US instead of China. As a result, supply was tight. Paraxylene (PX) prices decreased slightly as PTA futures fell from recent high levels. Since the price spread between PX and PTA shrank, views were heard that profitability of PTA might fall and operating rates might drop.
Olefins
The CFR Northeast Asia ethylene market strengthened. GS Caltex's new ethylene facility in Korea was shut down from Jun 27 due to troubles and supply was perceived to be tight. Market sources were paying attention to the conditions of the facility and were not aggressive in discussions.
The Asia propylene market moved up. In Northeast Asia, GS Caltex's new facility in Korea failed to start up and feedstock crude and naphtha prices remained high. As a result, sellers adopted a bullish stance. On the other hand, demand for August delivery to Japan was seen and market sentiment strengthened.
In the Asia butadiene market, supply/demand was tight. In Northeast Asia, exports to the US continued and few cargoes were available within Asia. Under this situation, FOB prices increased and sellers raised their offers in view of rising procurement costs. On the other hand, as non-regional supply was not seen, demand from Taiwan was firm. This sent the market higher.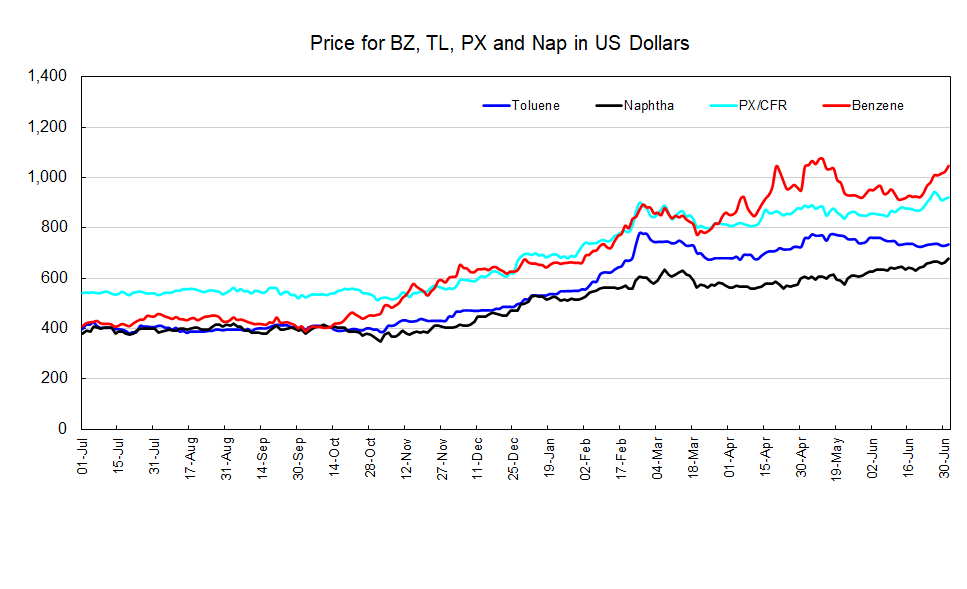 Tokyo : Petrochemicals Team Shinnosuke Tagusari
+81-3-3552-2411
Copyright © RIM Intelligence Co. ALL RIGHTS RESERVED.