Petrochemicals: Jul 5-9: Ethylene prices rise but upside limited
Aromatics
The FOB Korea benzene market softened. Along with the recent rise in benzene prices, profitability of derivatives worsened. Benzene demand was perceived to decrease going forward due to adjustment of operations at derivative facilities. The CFR Northeast Asia paraxylene (PX) market strengthened in the first half of the week but in the second half of the week, prices fell back. Prices changed along with upstream crude prices and derivative PTA futures.
Olefins
The CFR Northeast Asia ethylene market increased as benchmark feedstock naphtha prices were bullish. Selling ideas were raised but end-users were reluctant to buy at high prices as they were anxious about whether the rise in ethylene prices could be passed on to the derivative prices. On an FOB Korea basis, an August loading cargo was traded at $970-980/mt.
The Asia propylene market was quiet. In Northeast Asia, sellers adopted a firm stance as crude prices were high and supply was not ample. On the other hand, end-users showed scant buying interest for imported cargoes as China domestic supply was plentiful. Under this situation, talks were thin. In Southeast Asia, Thailand's PTTGC sold a spot cargo via a tender.
The Asia butadiene market strengthened. In Northeast Asia, cargoes continued to be exported to the US and supply within Asia was tight. As a result, FOB prices increased and discussion levels on a CFR basis also moved up.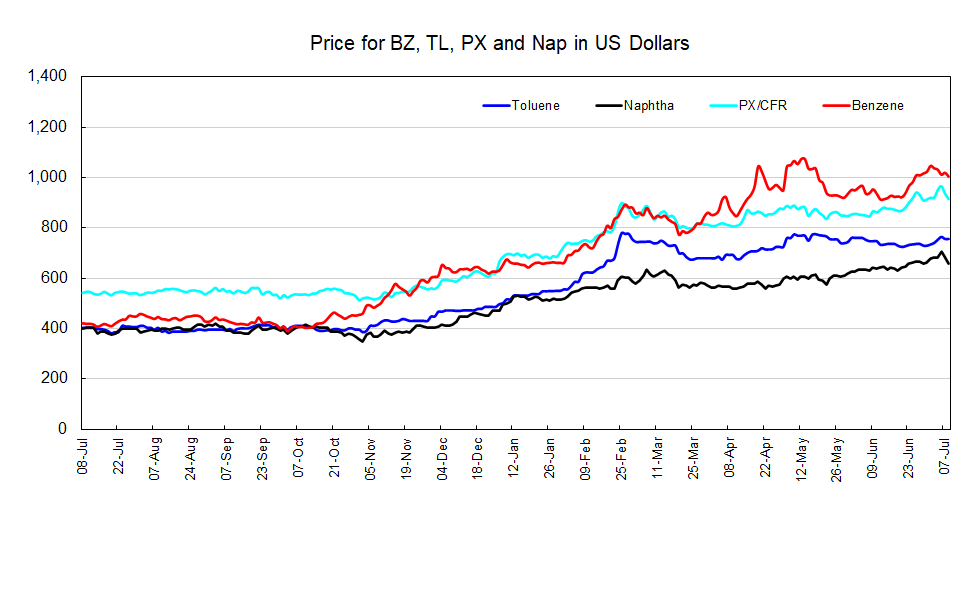 Tokyo : Petrochemicals Team Shinnosuke Tagusari
+81-3-3552-2411
Copyright © RIM Intelligence Co. ALL RIGHTS RESERVED.