Power: Jul 12-16: East edges up, West softens to trim gap vs East
In the day-ahead market on JEPX (Japan Electric Power Exchange), the 24-hour spot power prices for Jul 12-16 delivery rose moderately from the previous week in East Japan, but weakened in West Japan. East Japan was lifted by a pickup in air-conditioning demand as Kanto experienced more days with the temperatures above 30 degrees. Meanwhile, West Japan was capped by an increase in solar power supply from the previous week together with a restart of several thermal units.
The rainy season came to an end in a wide range of areas. The rainy season passed southern Kyushu on Jul 11, followed by northern Kyushu and Chugoku on Jul 13 and Hokuriku on Jul 14. On Jul 16, the rainy season was over in Kanto Koshin, southern Tohoku and northern Tohoku.
The actual highest price during the week was at Yen 14.88 in West Japan for Jul 13 delivery. The actual lowest price during the week was at Yen 6.08 in all of nine areas for Jul 12 delivery.
By area, the weekly average of the 24-hour spot prices was at Yen 7.83 in Hokkaido, up Yen 0.08 from the previous week, Yen 7.80 in Tohoku and Tokyo, up Yen 0.06, Yen 8.41 in five areas including Chubu, Hokuriku, Kansai, Chugoku and Shikoku, down Yen 0.57, and Yen 8.39 in Kyushu, down Yen 0.53.
Power demand in nine areas of Japan during Jul 12-16 was a combined 13,096.40 mil kWh, up 3.6% from 12,646.43 mil kWh during Jul 5-9. The figure was up 15.5% from the corresponding period a year earlier. Demand during Jul 13-17, 2020 after day of week adjustment was 11,340.98 mil kWh.
In the JEPX forward market, no fresh transactions were reported.
Deals reported on TOCOM (Tokyo Commodity Exchange) during Jul 12-16 were as below.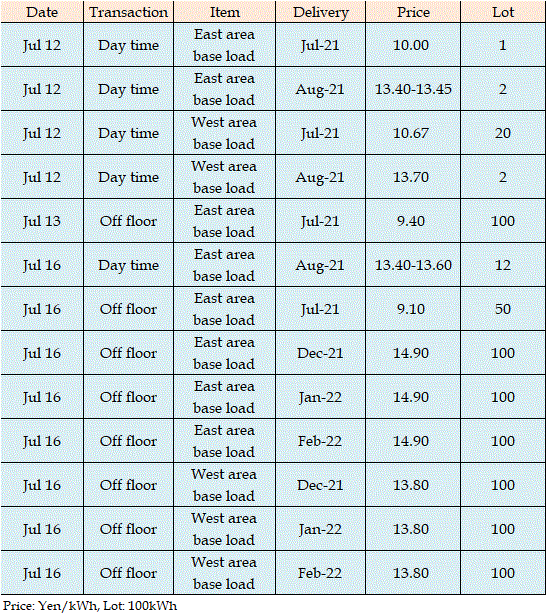 Deals reported on EEX (European Energy Exchange) during Jul 12-16 were as below.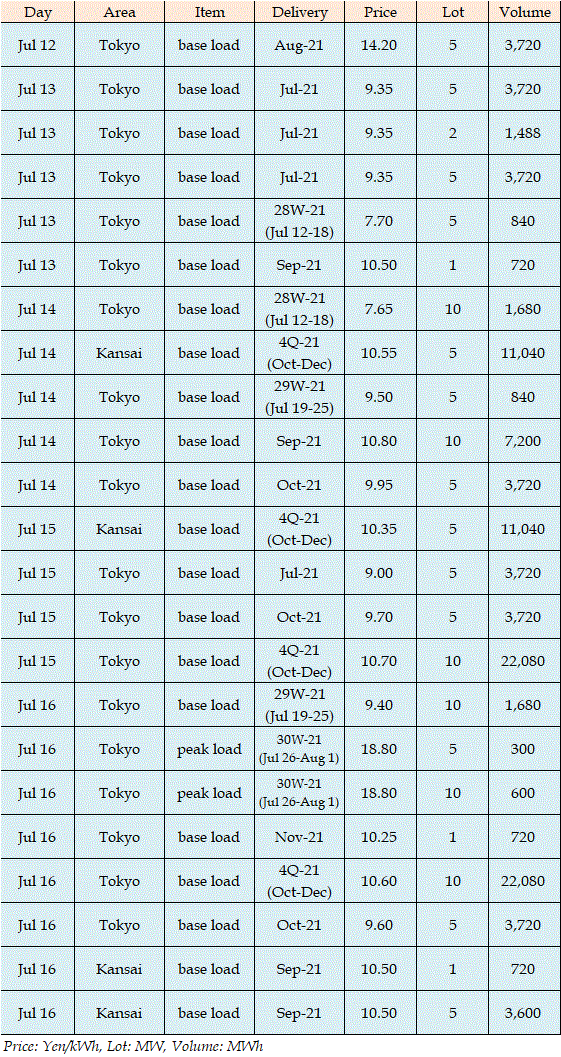 During the week starting Jul 19, spot prices are expected to strengthen further through Jul 21.
In the first half of the week, the temperatures from Kyushu to Kanto are forecast to rise above 35 degrees, an indicator of the extremely hot day, and buying interest is likely to grow to satisfy real demand. From the middle of the week, the temperatures will remain around 35 degrees in many areas of West Japan, but day time prices are believed to track a downward trend tied to the four-day weekend starting Jul 22. According to the weather forecast, the rainy season is expected to pass Shikoku, Kinki and Tokai as well in the week starting Jul 19. The end of the rainy season is likely to ignite caution over a possible price spike.

Tokyo : Electricity Team K.Karino
+81-3-3552-2411
Copyright © RIM Intelligence Co. ALL RIGHTS RESERVED.