Power: Jul 19-21: East jumps to Yen 40 level as summer heat wave arrives
In the day-ahead market on JEPX (Japan Electric Power Exchange), the 24-hour spot power prices for Jul 19-21 delivery extended gains. The rainy season came to an end across Japan after passing Shikoku on Ju 11. Spot prices were bolstered by a pickup in air-conditioning demand amid extremely hot temperatures in a wide range of areas. For Jul 21 delivery, brisk buying lifted spot prices with volumes of bids expanding to record-breaking 1,349.89 mil kWh. In addition, the price rally was accelerated by a breakdown of the interconnection line for Jul 21 delivery.
According to the Organization for Cross-regional Coordination of Transmission Operators (OCCTO), the Hida-Shinano Frequency Convertor (FC) connecting Tokyo and Chubu halted operation at 6:48 hours on Jul 20 due to a breakdown. The trouble slashed the FC's operating capacity to 1,650MW from 08:00 hours onward on Jul 20, down 450MW from normal capacity of 2,100MW. The operating capacity was expected to remain squeezed throughout Jul 21 as well. Besides growing demand amid severe heat wave, the lower interconnection line capacity added fuel to the price hike.
In East Japan, spot prices for Jul 21 delivery shot up to Yen 34.47 and Yen 41.64 during 16:00-17:00 hours on the back of the growing demand outlook and the interconnection trouble as mentioned above. In response to the spike above Yen 30, OCCTO was believed to enter investigation to giant power producers as to their offered volumes and demand estimation. Following the unprecedented price upsurge last winter, OCCTO unveiled its policy on Jun 29 to request giant power producers to provide data on their offer and bid volumes in a bid to confirm their right doing, in case either of the system price or area price in a single half-hour window, or the average price by window in the ahead and intraday market hits Yen 30 or higher.
The actual highest price during the week was at Yen 41.64 in West Japan for Jul 21 delivery. The actual lowest price during the week was at Yen 5.66 in all of nine areas and the system price for Jul 19 delivery.
By area, the weekly average of the 24-hour spot prices was at Yen 9.70 in Hokkaido, Yen 9.71 in Tohoku and Tokyo, Yen 9.09 in Chubu, Yen 9.06 in four areas including Hokuriku, Kansai, Chugoku and Shikoku, and Yen 8.84 in Kyushu.
Power demand in nine areas of Japan during Jul 19-21 was a combined 8,604.82 mil kWh, up 10.3% from 7,801.45 mil kWh during Jul 12-14. The figure was up 10.0% from the corresponding period a year earlier. Demand during Jul 20-22, 2020 after day of week adjustment was 7,826.12 mil kWh.
In the JEPX forward market, three deals were reported on Jul 19. In Kanai, the day time contract (delivery during 08:00-18:00 hours on weekdays) changed hands on a weekly delivery basis, with 2MW each fetching Yen 16.50 for Jul 31-Aug 6, Yen 17.50 for Aug 7-13 and Yen 18.00 for Aug 14-20.
Deals reported on TOCOM (Tokyo Commodity Exchange) during Jul 19-21 were as below.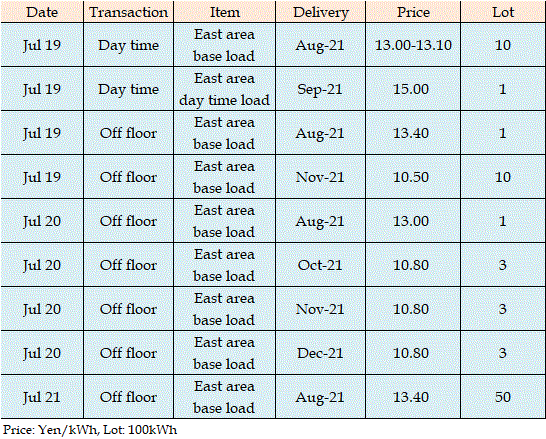 Deals reported on EEX (European Energy Exchange) during Jul 19-21 were as below.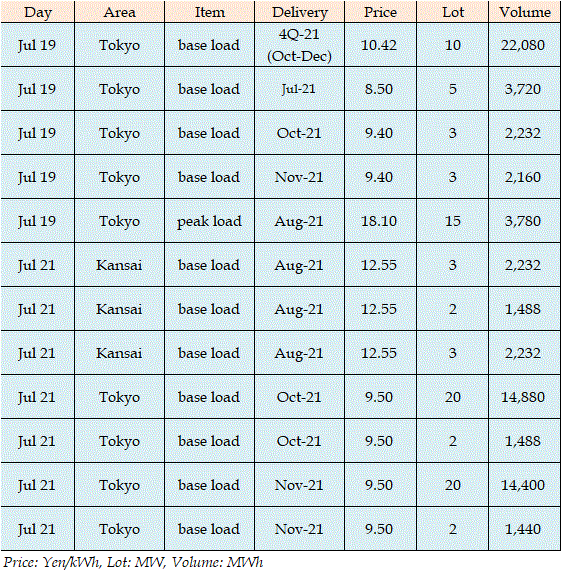 During the week starting Jul 26 after the four-day extended weekend, severe heat wave will continue to grip West Japan. The continued pickup in air-conditioning demand is likely to bolster spot prices. In East Japan, summer climate is expected to ease, with the highest temperature in Kanto forecast to stay around 30 degrees. Spot prices in East Japan will likely soften from this week. But there remains a possibility of unexpected price spikes in case of a sudden change in temperature or any troubles at power generation units and interconnection lines.


Tokyo : Electricity Team K.Karino
+81-3-3552-2411
Copyright © RIM Intelligence Co. ALL RIGHTS RESERVED.