Petrochemicals: Sep 6-10: Butadiene falls on slack supply/demand
Aromatics
FOB Korea benzene prices briefly exceeded $1,000/mt since styrene monomer (SM) futures rose sharply in the Dalian Commodity Exchange in China. But after that, futures and crude prices dropped and benzene prices followed this fall. CFR Northeast Asia paraxylene (PX) prices softened, weighed down by sluggish demand for downstream fiber products.
Aromatics
The CFR Northeast Asia ethylene market increased since end-users wanted to replenish inventories toward China's National Day holidays from Oct 1. Further, derivative polyvinyl chloride (PVC) prices were perceived to rise going forward and this also supported the market. On a CFR Northeast Asia basis, a rumor circulated that a deal was done at $1,080/mt although the details were not clear. On an FOB Taiwan basis, Formosa Petrochemical sold a cargo loading from second-half September to first-half October at $1,011/mt via a tender.
The Asia propylene market was quiet. Chinese end-users showed scant buying interest for imported cargoes as domestic supply was ample. Sellers, however, were not actively conducting sales due to a shortage of vessels and high feedstock costs. In Korea, one maker carried out a sell tender for October loading but the tender was not awarded as bids were low.
The Asia butadiene market softened. In Northeast Asia, the arbitrage from Asia to the US was closed and supply was plentiful. On the other hand, many end-users could meet their demand with term cargoes and supply/demand was slack. In Southeast Asia, demand was sluggish and supply was seen to be in surplus.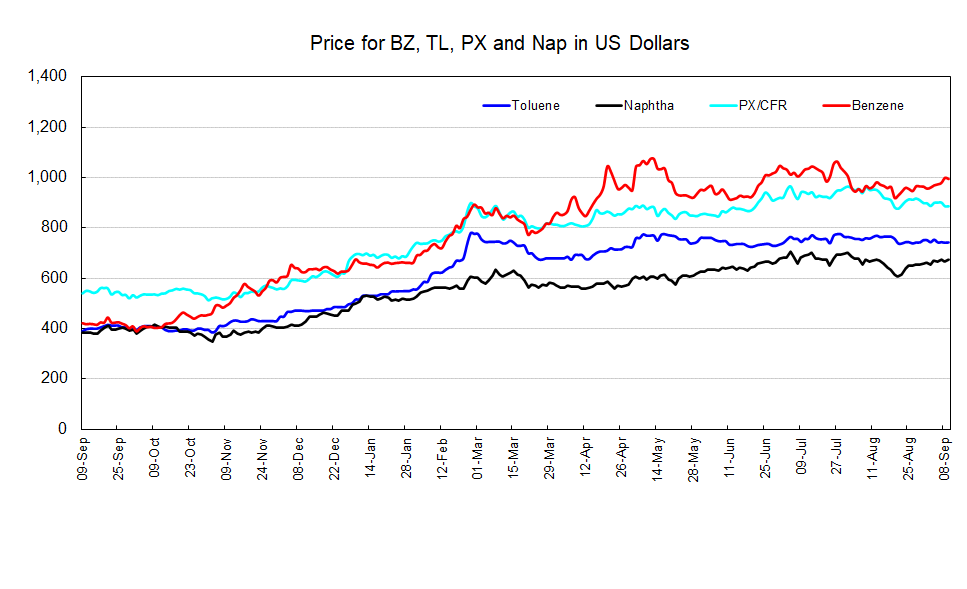 Tokyo : Petrochemicals Team Shinnosuke Tagusari
+81-3-3552-2411
Copyright © RIM Intelligence Co. ALL RIGHTS RESERVED.