Petrochemicals: Jan 17-21: Ethylene falls further on slack supply/demand
Aromatics
The FOB Korea benzene market strengthened at the beginning of the week along with a rise in crude prices. But after that, the market fell back. The CFR Northeast Asia paraxylene (PX) market increased in the middle of the week, supported by firmness in crude prices and purified terephthalic acid (PTA) futures. After that, the market softened.
Olefins
The CFR Northeast Asia ethylene market decreased due to slack supply/demand. The Lunar New Year would be on Feb 1 while the government requested downstream factories to reduce operation rates along with the Beijing Olympic Games that would start from Feb 4. For these reasons, ethylene demand was expected to decrease. On the supply side, some ethylene makers were showing selling interest. In trade this week, deals for delivery to China in February and second-half February were done at $900/mt.
In the Asia propylene market, a wait-and-see mood was strong. In Northeast Asia, facility problems were being resolved gradually and end-users showed no hurry to buy. Further, buying interest from Chinese end-users was lackluster ahead of the Lunar New Year. In Korea, naphtha crackers continued to cut production and many propylene facilities would enter maintenance going forward. Supply was therefore perceived to be tight. As a result, sellers were in no rush to engage in trade. In Southeast Asia as well, firm talks were not heard and activity was thin.
The Asia butadiene market was quiet. In Northeast Asia, end-users had mostly finished trade before the Lunar New Year and a wait-and-see mood pervaded the market. Talks on delivery from Asia to the US also reached a lull. In Southeast Asia, Thailand's PTTGC conducted a sell tender for February loading but the tender was not awarded and PTTGC switched to private negotiations instead.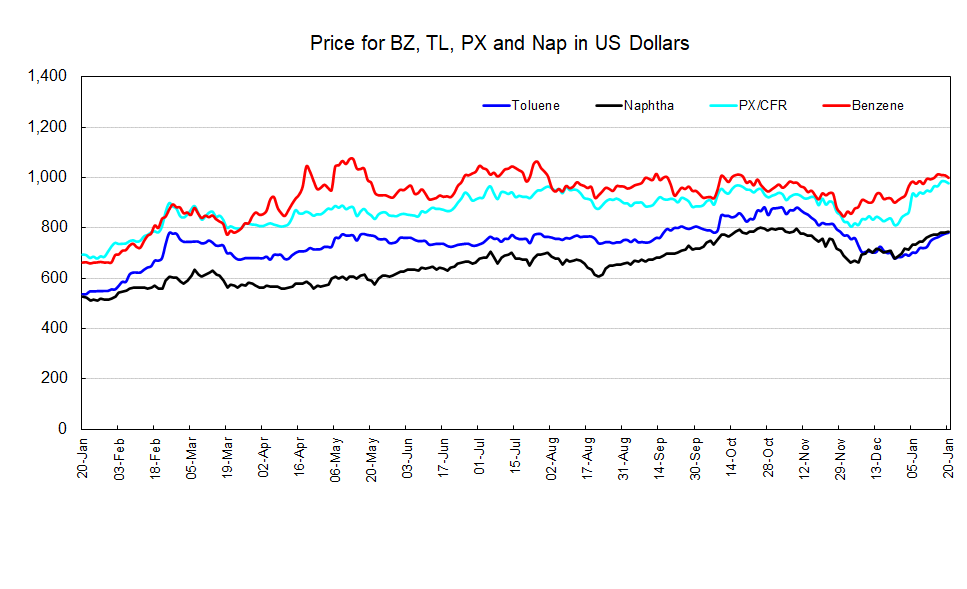 Tokyo : Petrochemicals Team Shinnosuke Tagusari
+81-3-3552-2411
Copyright © RIM Intelligence Co. ALL RIGHTS RESERVED.