Petrochemicals: May 9-13: Propylene softens, facility in Malaysia to restart
Aromatics
Benzene prices on an FOB Korea basis rose sharply as the arbitrage from Asia to the US was open due to an increase in US benzene prices. Paraxylene (PX) prices on a CFR Northeast Asia basis strengthened, supported by an increase in benchmark feedstock mixed xylene (MX) prices. MX makers were consuming more MX as a feedstock of gasoline and supply tightened.
Olefins
Ethylene prices on a CFR Northeast Asia basis softened due to slack supply/demand. At ethylene facilities, maintenance and production cuts were taking place but demand was low owing to lockdowns in China. Further, troubles occurred at derivative facilities in Japan and this also led to perceptions of surplus supply. In trade on a CFR Northeast Asia basis, a deal for delivery to China in second-half May was reportedly done in the $1,140's/mt by the end of the previous week. At the beginning of this week, a deal for delivery to China in June was reportedly concluded at $1,172/mt but after that, buying interest was said to be receding.
The Asia propylene market fell. In Northeast Asia, buying interest from Chinese end-users was thin and demand from Japan was no longer seen. Therefore, market sentiment weakened. In Southeast Asia, PRefChem's facility was expected to restart in May and makers in Thailand and the Philippines seemed to have availability. As a result, perceptions of tight supply receded.
The Asia butadiene market strengthened. In Northeast Asia, demand from Korea increased and buying interest was also observed from Japan. Deals for Chinese cargoes for delivery to Korea were concluded. In Southeast Asia, sellers had mostly finished sales for May loading and showed no hurry to engage in trade for June loading.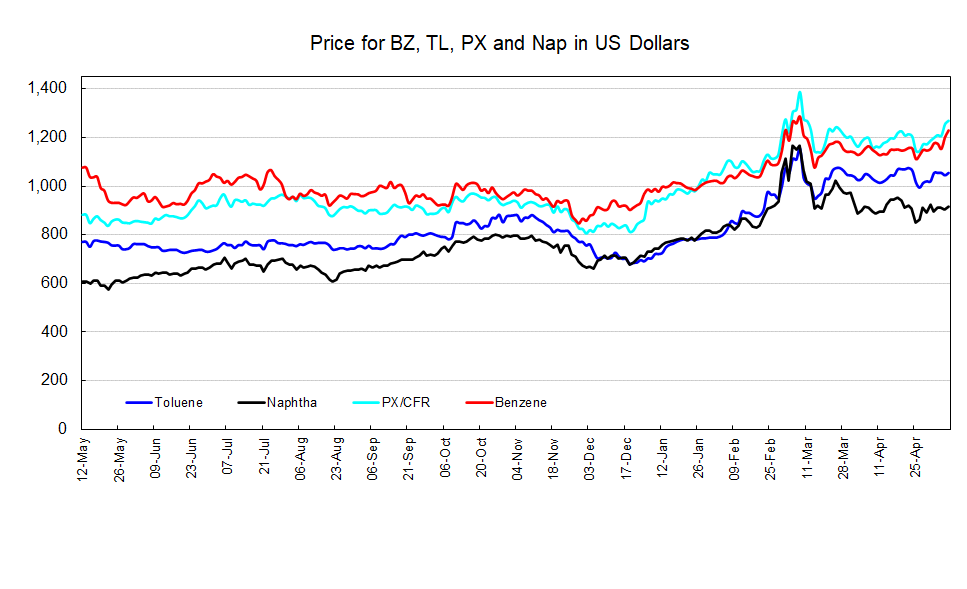 Tokyo : Petrochemicals Team Shinnosuke Tagusari
+81-3-3552-2411
Copyright © RIM Intelligence Co. ALL RIGHTS RESERVED.