Petrochemicals: Jul 25-29: Butadiene falls further on slack supply/demand
Aromatics
Aromatics prices in the Northeast Asia market were firm. Since crude prices hit the bottom and aromatics prices in the US market rebounded sharply, players moved to cover short-positions.
Olefins
Ethylene prices on a CFR Northeast Asia basis decreased due to slack supply/demand. In Korea, some derivative petrochemical makers were reducing receiving volumes of ethylene owing to weak demand. In China, a naphtha cracker that was currently shut down was expected to restart in August. For these reasons, supply/demand for ethylene was slack. In trade this week, several deals for delivery to China were heard at prices including $850/mt.
The Asia propylene market was quiet. In Northeast Asia, petrochemical makers continued production cuts and sellers faced no inventory pressure and were in rush to carry out sales. On the other hand, prices for derivatives including polypropylene were softening and buying interest for propylene remained weak.
The Asia butadiene market softened. While spot demand was not seen, supply was ample and supply/demand was slack. End-users in Taiwan and Korea could meet their demand with term cargoes and showed scant interest in spot purchase. In China, domestic supply was ample and Chinese end-users were not keen to buy relatively expensive imported cargoes. On the other hand, supply of Southeast Asian cargoes was plentiful.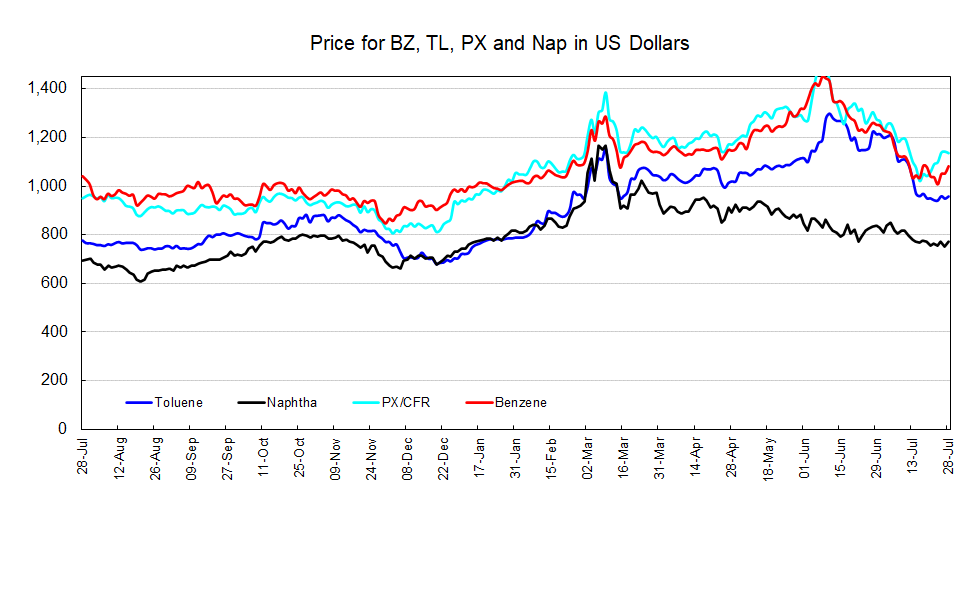 Tokyo : Petrochemicals Team Shinnosuke Tagusari
+81-3-3552-2411
Copyright © RIM Intelligence Co. ALL RIGHTS RESERVED.